I am super excited to be featured by Amanda on her fantastic blog, Teaching Maddeness!!! Every Wednesday she features a new blogger on her Budding Blogger's Showcase.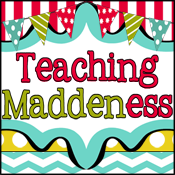 If you haven't found her yet, you NEED to go and check out her
blog
, and her
website
, and her stores on TPT (click
here
or
here
)! She's an incredibly creative teacher who generously shares her knowledge and experiences. She is one of the first bloggers that I started following, and her website really helped me start making sense of Writer's Workshop.
Amanda is also organizing the Carolina blogger's meet up in Greenville, SC on Aug 2-3. I can't wait to meet the many wonderful bloggers from this area, and to check out Greenville. I've heard its a really neat city. Come and join us if you can!
And if you're a new blogger, like me, contact her about her Budding Blogger's Showcase...it's a great way to make connections with other bloggers! Thank you Amanda!!!